Vinegar Girl is a 237-page contemporary retelling of Shakespeare's The Taming of the Shrew. It is part of the Hogarth Shakespeare retelling collection.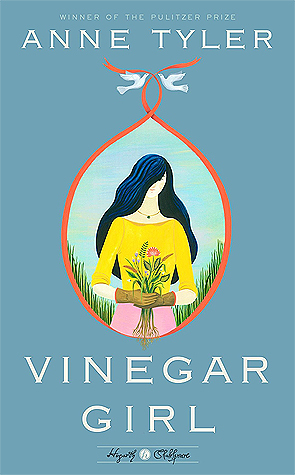 Kate (a strong independent woman who don't need no man) is just shy of 30, gardens and works at a preschool, and is constantly in trouble at work for lack of discretion when talking to the children's parents–definitely a character I can get behind. Bunny, 15, is Kate's ditzy sister. Their father, Dr. Battista, is a scientist working with autoimmune disorders alongside his research assistant, Pyotr.
Rather than a marriage wager, the doctor pushes Kate to marry Pyotr because the Pyotr's three-year visa is about to run out. (Sorry for spoilers about the relationship! By now, surely you've at least seen "10 Things I Hate About You," though? Which, by the way, is better than Vinegar Girl).
Anne Tyler was a solid choice for retelling The Taming of the Shrew. She captured the humor from the play–I found myself chuckling quite a bit at the end of the novel. Pyotr and Kate's banter around the language barrier, especially Pyotr's love of American clichés, was particularly fun.
One of my gripes with the story is that it felt too tidy–Kate never once struck me as unsure, and she never second guessed her decisions. Sure, that's the independent shrew we know and love, but it felt unrealistic. Kate always had a "sense" things were going to work out, which made it a little less fun than I wanted. The bonus here is that Kate's decisiveness made the book pretty short, and since Tyler has a clean and comfortable writing style, I finished it in two sittings.
The only other gripe I have is that there's no real character growth for Kate. Bunny and Pyotr, and even Kate's crotchety aunt, grow and change. Kate is a static character that appears to be independent, but does the predictable thing every single time she's presented with an option. This didn't necessarily ruin the novel for me, but it certainly lent to the "tidy" feeling I got from it.
Though the story isn't the most wonderful thing I've read all year, it was fun, and I did really enjoy Tyler's writing style. Although I've never read anything by her before, I'll probably search out some of her other non-retelling work after reading Vinegar Girl.
TITLE: Vinegar Girl
———————————————
AUTHOR: Anne Tyler
———————————————
PAGES: 237
———————————————
ALSO WROTE: The Accidental Tourist, A Spool of Blue Thread
———————————————
FIRST LINE: Kate Battista was gardening out back when she heard the telephone ring in the kitchen.