Homegoing is a 305-page sweeping historical/cultural fiction novel written by Yaa Gyasi, published by Knopf in June of 2016.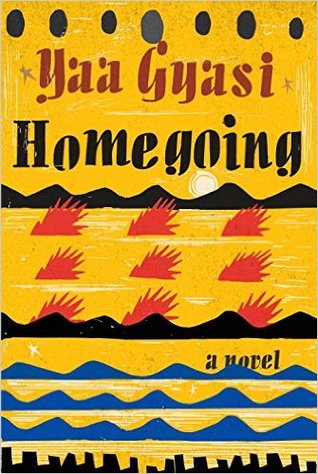 I wasn't sure what to expect from this novel, but what I got was a mind-blowing experience. The novel follows the lineal descendants of half-sisters Effia and Esi, born in eighteenth-century Ghana. Each chapter features the successive descendants of these women, from eighteenth century Ghanaian slavery to twentieth-century Harlem.
Effia is forced to marry an Englishman; Esi is captured, imprisoned, shipped to America, and sold into slavery. Though the beginnings of Effia and Esi's journeys appear different on the surface, Gyasi digs deep into how both American and African cultures oppress and stifle those who are different and how destroying culture starts in the family home.
More than just passing vignettes, the characters were well-developed and fully realized, and I felt invested in every single one. The majority of the characters could have easily stood as a main character in their own novels. Gyasi portrays such a rich oral history that I felt heartache and longing for the home that Effia and Esi were torn from and outrage and betrayal as the Africans sold their own into slavery.
Homegoing is so well written that I could not believe this was Gyasi's first novel. Her apparently effortless skill connecting such an emotionally charged issue through disparate regions and timelines is pure joy in contrast to the horror of the slave trade. From the heart-breaking stories to the hope and determination of strong-willed men and women, Gyasi has created something wonderful here. This is a fantastic read and is shaping up to be my favorite historical fiction of 2016.
TITLE: Homegoing
———————————————
AUTHOR: Yaa Gyasi
———————————————
PAGES: 305
———————————————
ALSO WROTE: Nothing, yet!
———————————————
FIRST LINE: The night Effia Otcher was born into the musky heat of Fanteland, a fire raged through the woods just outside her father's compound.
———————————————
SORT OF LIKE: