Why Not Me? is a 228 page memoir published by Crown Archetype in September of 2015.
This novel is body-conscious and thoughtful and much less funny than Mindy Kaling's previous book, Is Everyone Hanging Out Without Me? I definitely agree with Kaling–this novel is basically an exposé on her character flaws. While she is a very *real* woman (although with slightly *unreal* celebrity problems), I don't find I have much in common with her, which may have tempered my enjoyment of this.
However, I loved all of her imagined scenarios, especially the fantastic story told via email correspondence between a hypothetical teacher version of Mindy and her hypothetical, older love interest—a recently widowed, grumpy teacher named Sam. The short story revolves around teacher-Mindy throwing a teacher soiree because she's really having a tough time after her boyfriend broke up with her. It's a cute and funny story, much like all the others she writes.
I listened to the audiobook, which was relatively well-narrated, though I listened to this following Jenny Lawson's narration of her memoir, Furiously Happy (my now favorite narrator and audiobook), which put her at a slight disadvantage. It felt more like Kaling was reading a script than talking directly to me, which is understandable, but a bit of a disappointment.
From what I can tell, if you enjoy her show The Mindy Project, you will love this book. It has some excellent insight into the comedy business and many heartfelt stories.
TITLE: Why Not Me?
———————————————
AUTHOR: Mindy Kaling
———————————————
PAGES: 228
———————————————
ALSO WROTE: Is Everyone Hanging Out Without Me? (And Other Concerns), Matt & Ben
———————————————
SORT OF LIKE: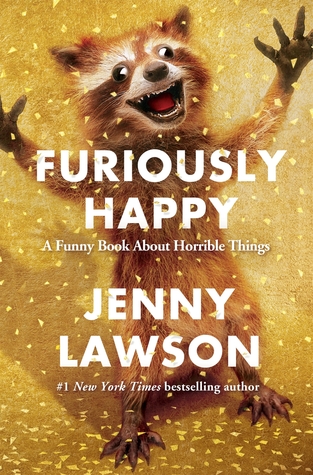 ———————————————
FIRST LINE: In seventh grade I started at a new school.
———————————————
FAVORITE LINE: Maybe it's my age, maybe it's my security in my career, maybe it's because I'm skrilla flush with that dollah-dollah-bill-y'all, but if I had to identify my overall feeling these days, it's much more "Eh, screw it. Here's how I really feel."