In continuation from Part 1, these are the books that I loved reading last year but were published pre-2015. While I did manage to read some new books, mostly I read whatever caught my fancy at garage sales or wonderful library book sales (a whole BAG OF BOOKS for $1!). These are my three favorite "old" books that I read in 2015–okay, I cheated on the last one because it's actually a series, but what are you going to do about it?
---
A Tale for the Time Being by Ruth Ozeki is about a Canadian writer named Ruth finding a washed up diary in a lunchbox (from the 2011 tsunami) of Nao–a 16-year-old girl from Tokyo. Through Ruth's reading of the diary, we learn about Nao's disturbingly cruel classmates, her resolve to commit suicide, and most importantly (in Nao's mind), her Buddhist nun great-grandmother.
I listened to the audiobook read by the author. I cannot praise her performance enough–it was fantastic to experience Ozeki's knowledge of Japanese language and culture. The novel itself is fantastically meta, weaving the past with the present and writing, thoughts, and dreams. Nao's sections of this book were wonderfully weird. Full of aching beauty and thoughtfulness, this is easily one of my favorites for the year. Get ready for some pervy stuff, though. If that's not your thing, you might want read something else.
---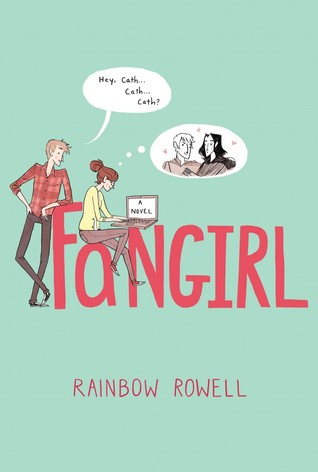 Fangirl by Rainbow Rowell is about a freshman in college who turns to writing fanfiction to cope with life. Cath's twin sister wants to stop spending so much time together and stop living together–these revelations come as a huge shock to Cath, who considers her twin her best friend. Together, the two have bonded over everything, including the long-lasting act of writing fanfiction about Simon Snow (fictional representation of Harry Potter brought to life in Rowell's Carry On).
I loved this book because of the struggles Cath experiences while navigating college, literary obsessions, and being an anxious introvert. Her story so closely resembled my own freshman year that I couldn't help but fall in love with the hysterical antics and writing Cath gets up to. I finished it in one sitting because it is just so spot on. This is superb for lovers of fanfiction.
Side note: Rainbow Rowell was a speaker at my local library, which convinced me to read all of her books. They are all fantastic, trust me.
---
Y: The Last Man by Brian K. Vaughan, Pia Guerra, and José Marzán Jr. is actually a ten-volume graphic novel series. I devoured the whole series in 2015 because it is just that good, so I'm counting it as one book. I struggled with whether to mention this series or Gaiman's Sandman (which I also read in 2015), but I thought that it already has received so much acclaim that Y should get some love.
Premise: something caused all mammals with a Y chromosome (including embryos and sperm) on Earth to drop dead–except for one man and his monkey. Yorick and Ampersand, respectively, travel the world to find Yorick's girfriend Beth and to find the reason that only they survived. Along the way they encounter cults, crazy government officials, assassins, astronauts, and get into all sorts of crazy shenanigans.
What I loved about this series was both the fantastic storytelling and the dark humor. While some feel the series is sexist, I thought the author wrote a realistic representation of what could happen if females suddenly became the only living beings on Earth. I laughed, I cried, I devoured this story. Yorick can be a jerk, but a lovable one, and the female characters (especially Agent 355 of the secret government organization, the Culper Ring) were just so wonderful that I didn't even care if Yorick's survivor's guilt was awkwardly written about. The rest is so masterfully done that this goes in my top three favorite graphic novel series.
---
So… what were your favorite books of 2015 (new or "old")?