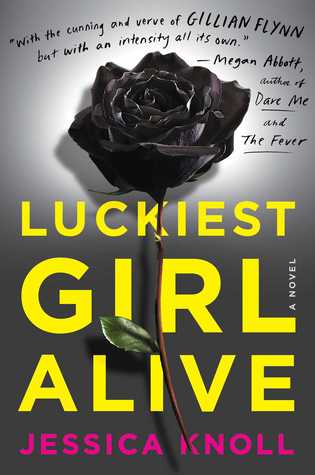 Luckiest Girl Alive is a 352 page thriller/mystery published by Simon & Schuster in May 2015. I listened to the audiobook version, read by Madeleine Maby.
Since this book is considered a mystery, I'll avoid too much summary to prevent spoilers. Ani (Tifani FaNelli) is an editor at a well known women's magazine looking forward to marrying Luke, a man of status and old money. She wants to forget about her dark past at school and mediocre status so she attempts to create an entirely new personality for herself, known as Ani. Besides flashbacks, that's pretty much the entire plot of the book.
Considering half her time is spent fretting about which expensive outfit will make her look the most ragamuffin or how best to starve herself and how much she wants to binge eat, it might not seem like Ani cares to think about her past. But once a man from her days at school appears, the story starts taking a darker turn, focusing on Ani's memories. High school girls are the meanest people in the world and the flashbacks are pretty much what you'd expect from a girl who moved into a new town and wanted desperately to be popular.
I didn't particularly like any of the characters—they were all either vapid and boring or excruciatingly cruel. Ani herself was pretty detestable–planning to marry for money "security." Unlikable characters did make for an interesting read, though. I was much more invested in finding out what event caused everyone to act shocked when they find out that Ani went to, *gasp*, Bradley School than whether or not Ani was going to get into a fight with Luke's family over supper.
Knoll's strongest narrative thread concerned the documentary that Ani participated in during the present sections of the novel, where she was interviewed about her connection to The Incident at Bradley. Considering that the only real mystery in the book was what happened in Ani's past, the documentary was the only thing that kept me going. Luckily, Jessica Knoll wrote an incredibly satisfying ending that tied everything up, redeemed (at least somewhat) the main characters, and made Ani a little more sympathetic.
Even though this wasn't as good as Gone Girl, which, in my opinion, was a grenade in the mystery genre, this book still has a solid story that opens up excellent dialogue on high school bullying. If you enjoy mystery, thrillers, fiction with developing strong female characters, you will enjoy Luckiest Girl Alive.
TITLE: Luckiest Girl Alive
———————————————
AUTHOR: Jessica Knoll
———————————————
PAGES: 352
———————————————
ALSO WROTE: Cosmo's Fifty-One Shades of Blonde
———————————————
SORT OF LIKE: Gone Girl, We Were Liars
———————————————
FIRST LINE: "I inspected the knife in my hand."
———————————————
FAVORITE LINE: "Rusted and bacteria ridden, I'm the blade that nicks at the perfectly hemmed seams of Luke's star quarterback life, threatening to shred it apart."