After learning Rainbow Rowell was going to give a talk/signing at my local library (and that she's going to be at NerdCon), I finally decided to jump on the bandwagon and start reading her books. I was not disappointed. I started with Fangirl, which is still my favorite. Even so, Landline is a solid novel–published in July of 2014 by St. Martin's Press.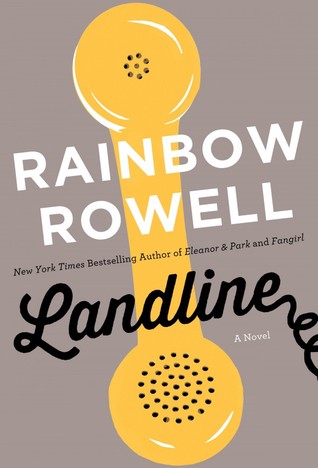 The narrative revolves around Georgie's (possibly) failing marriage. She gets the break of a lifetime when a network wants to pick up the show she and her best friend Seth have been writing together since college. Unfortunately, they want episodes written in the next couple weeks, which span Christmas-time. While Georgie backs out on going to Nebraska with her husband and children, she also proceeds to fail to write anything while she is consumed with worry at the bumps that have come up in her relationship with her husband, Neal.
Where I think Rowell succeeds most here is in capturing lasting and mature love. She's tackled plenty of first loves in her other books, as have many YA authors. In Landline, it's much more about an established relationship–one that is just as full of love, even if Georgie and Neal struggle to show it. A huge "What if?" situation presents itself when Georgie realizes that she can use a magical landline to talk to the Neal that exists in her past, previous to their marriage.
Landline brings up a lot of good questions. Would you change the past if you could? CAN you change it? Does what your heart wanted in the past matter to the present? Who is there really to say that each of us has a soulmate? Could we make it work with someone who wasn't our soulmate? Would you give up your dreams to make your marriage work? Would you give up your marriage to achieve your dreams?
I barely even know my answers to these questions, but it was incredibly cathartic to watch Georgie figure out her beliefs on those matters. Rowell, just like in her other works, builds suspense throughout the narrative, drawing the reader away from guessing the conclusion of the story. The magical realism in the story enhanced the marriage plotline, giving it a little something new in the love game. Paraphrasing Rowell's speech at my library, love has been written about countless times in countless ways. But I think she comes up with a fresh way to spin it with this tale.
TITLE: Landline
———————————————-
AUTHOR: Rainbow Rowell
———————————————–
PAGES: 308
———————————————–
ALSO WROTE: Eleanor & Park, Fangirl
———————————————-
SORT OF LIKE: Diary, Tuck Everlasting
———————————————-
FIRST LINE: Georgie pulled into the driveway, swerving to miss a bike.