Annihilation is a sci-fi/supernatural/horror novel by Jeff VanderMeer, published by FSG Originals in February of 2014. The other two novels in the Southern Reach Trilogy were both released in 2014 as well.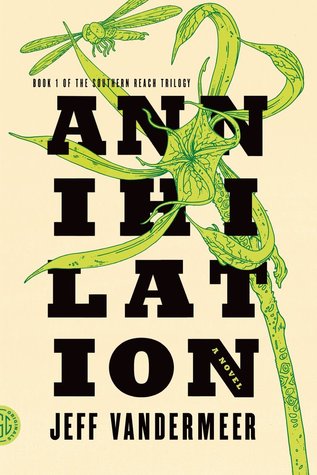 A journal belonging to a woman who was part of the twelfth expedition to mysterious and dangerous Area X–a place where no one has ever truly come back alive from–is found by an unexpectant reader. Myself. I personally adore novels written in the form of a journal and Annihilation only served to reinforce that adoration.
The main character, a biologist, set out to Area X with a psychologist, surveyor, archeologist, and lingiust. They're charged with exploring the walled off Area X but things don't go the way any of them planned.
With odd events and an inexplicable underground tower that does not appear on their map, the disjointed group has all of Area X pushing against them. Unnatural occurrences and strange behaviors from the other group members test the biologist and push her to find out what's really going on in this secluded area.
I had heard a lot of hype about this book–that it was a hugely promising work of science fiction. I'm not sure that's true, but only because it's so hard to put this novel into a genre. I suppose it's science fiction–there is science in it. The biologist at least keeps her head and takes samples. Did I also mention that the novel sneaks in some humor, too? The biologist's dry sense of humor thrilled me and kept me interested–although it was the mystery of Area X that was the true star of the book, which gave it more of a thriller vibe than a sci-fi one.
VanderMeer expertly weaves features of these various genres into a chilling scientific account of a haunting journey into a government cordoned area. Overall, I would recommend Annihilation for those looking for supernatural horror, mystery, or an interest in journaling. It's a quick read with a bit of a cliffhanger, just enough to garner interest in Authority, the novel's sequel.
TITLE: Annihilation
———————————————-
AUTHOR: Jeff VanderMeer
———————————————–
PAGES: 209
———————————————–
ALSO WROTE: City of Saints and Madmen, The Steampunk Bible
———————————————-
SORT OF LIKE: House of Leaves, The Island of Dr. Moreau
———————————————-
FIRST LINE: The tower, which was not supposed to be there, plunges into the earth in a place just before the black pine forest begins to give way to swamp and then the reeds and wind-gnarled trees of the marsh flats.