The Martian is a 369 page science fiction novel by Andy Weir. It was originally self published, then picked up for publication by Crown in February of 2014.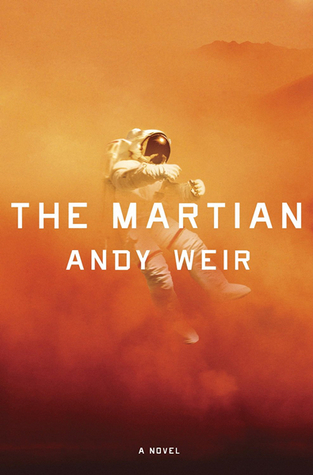 The book begins with Mark Watney writing in his log that while his team (of astronauts on Mars) thought he died in a windstorm, he actually survived and now is living alone on Mars. As an engineer and botanist, Mark devises many different ways to extend his survival on Mars–all the while trying to figure out how to contact his team or Earth, both of whom believe him to be dead and his mission to be scrapped. The plot revolves around his triumphs and failures on Mars and his ingenuity as a lonely man and only resident Martian.
This book defines a roller coaster ride of emotions. Half the book is full of elated moments where Mark Watney is definitely going to make it back to Earth and the other half is full of despair where Mark Watney is definitely not going to make it back to Earth. I don't label many books as "page-turners" (because don't all good books require you to turn the page?), but this novel held my heart in its palm and repeatedly squeezed and relaxed its grip while I devoured every word.
I personally love epistolary novels, which is one reason I was thrilled to find out this book was more than just a pretty sci-fi book about Mars. Along with diary entries, Weir includes glimpses into NASA's panic on Earth and Watney's team's despair at losing their colleague and friend. Watney is a darkly funny character who made me chuckle on numerous occasions. Along with being realistically morbid, his science brings another realistic aspect to the novel.
The Martian is clearly a labor of love for Weir, and it really shows. It is a fantastic book. Absolutely one of my favorite books that I read in 2014. If you like sci-fi, survival stories, nature stuff (Mars has its own unique nature), or just like a morbid joke, I recommend this novel.
TITLE: The Martian
———————————————-
AUTHOR: Andy Weir
———————————————–
PAGES: 369
———————————————–
ALSO WROTE: The Egg
———————————————-
SORT OF LIKE: Apollo 13 ; Castaway
———————————————-
FIRST LINE: LOG ENTRY: SOL 6
I'm pretty much fucked.