This is the second part to my reviews from the 20th Century British Novels class I took this semester. Here's part 1. I read a lot of books for class this semester and really fell behind on reviewing them. Considering it has been a while since I read most of these books, I thought I would just do some mini reviews to round out the semester.
All books chosen were either Man Booker Prize winners or shortlisters.
—
Offshore is a 141 page novel(la?) written by Penelope Fitzgerald, published by Mariner books in 1998. It won the 1997 Man Booker Prize.
The story focuses on a group of misfit adults who live on barges on the Battersea Reach on the Thames in the 1960s. The main story is about Nenna, who is separated from her husband–neither of them want to meet in the middle–and caring for her two daughters.
To be honest, I'm not sure at all why this won the Booker Prize, because it seems like a loose jumble of narratives. The story was interesting, and I liked Nenna's daughters, but Nenna was so wishy-washy that I didn't fully enjoy her (or her husband's) parts of the book.
The novel ended wishy-washy as well, without a clear direction or wrap-up. Overall impression: Don't live on the Thames on a barge, because nothing good comes of it.
—
Pigeon English is a 288 page murdery/crime mystery by Stephen Kelman, published by Mariner Books in 2011. It was shortlisted for the Man Booker in 2011.
The plot features Harrison Opoku and company attempting to solve a playground murder. Yeah, really, a kid is murdered and they're hilariously trying to solve it. The book is dark and funny, adding elements of a Post-Colonial England and lots of family drama.
Harri is a great child narrator who keeps you guessing and keeps you chuckling throughout (Advise yourself of those hutious criminals!). Kelman captures the young boy narrator brilliantly.
As for the pigeon narrator (ya, the pigeon narrates the openings of some chapters), Kelman misses a bit. The pigeon sounds intelligent and interesting and also quite pretentious. It didn't break the novel for me, but made it clear this was Kelman's first novel. Still, a great first novel! Overall impression: this book soared.
—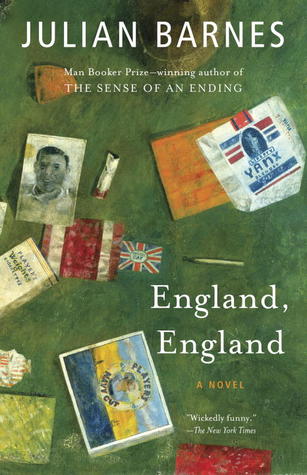 England, England is a 288 page humorous, satirical novel by Julian Barnes, published by Vintage in 1998. It was shortlisted for the Man Booker in 1998.
The story is based on an intriguing tourist attraction. Sir Jack Pitman comes up with the idea to create a new England, where tourists can see all the sites and get the full English experience without having to actually go to England. He ends up turning the Isle of Wight into England, England–the most English place in the world.
Martha (and her boyfriend Paul) work for Sir Jack and help him come up with ideas and improve the island. Then some weird stuff happens, which is at least a little bit important to the plot, so I won't spoil it.
The beginning of the novel (first 50 pages) were the best part. Martha was a small child who was snarky and fun to read about. After that, the book went downhill. I appreciated the satire, but did not enjoy it one bit. It was a struggle to read every page. Overall impression: England is not English enough for some tourists.
—
The Inheritance of Loss is a 357 page historical fiction by Kiran Desai, published by Grove Press in 2005. It won the Man Booker in 2006.
I picked this for my eighth optional novel, on which I had to give a presentation. The setting switches between areas in India and the United States of America. There are many main characters, whose POVs you get first hand. There's the judge, who just wants to retire in peace, his orphaned granddaughter Sai, who doesn't want for much besides her boyfriend and tutor whose POV you also get, and then there's the judge and Sai's cook and the cook's son, Biju–an illegal immigrant to the USA. Yes, you get all these POVs, and it actually works quite well.
The plot features political unrest in India and the Ghorkaland movement. Also featuring huge post-colonial themes, identity crises, and confused teenagers, this book covers a lot of ground pretty succesfully. Although I didn't particularly love any of the characters, I really enjoyed reading about the struggles of being a post-colonial Indian, even one in America. Overall impression: the Brits can go to hell as long as they leave us their culture and language.