The Fault in Our Stars is a young adult romance novel loosely based on Esther Earl Grace–a young girl suffering from metastasized papillary thyroid cancer. It is a 318 page book published by Dutton Books in January of 2012. I got my ebook copy when it was on sale a while back intending to read it sometime in the future, and my roommate had it on her list as well, so it made our summer reading list.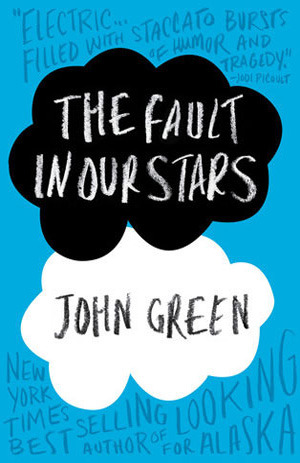 The Fault in Our Stars is fiction based on a nonfictional girl with cancer. Cancer girl meets cancer boy at cancer support group and cancer sparks fly aided by "Cancer Perks." Cancer boy, aka Augustus Waters, has osteosarcoma and only one leg. Augustus and Esther Hazel Grace Lancaster, 17 and 16 respectively, have a cute little romp being cancer-y and afraid of falling for each other because of it.
There is some intrigue when a chance for Hazel to meet her favorite author (of a cancer book) makes itself apparent. Also some intrigue with cancer-related issues, health failings, and one fun character–Augustus's blind-due-to-cancer friend, Isaac.
Although I enjoyed some of the metaphors, thank you Augustus, overall this book did not blow me away. I liked it for what it is though, a cute YA romance about cancer. While I definitely did not hate it, there weren't a lot of moments that I loved it, either. Hazel was a bit annoying as a character, in all her sad-sympatheticness; Augustus was a more interesting character; and Isaac was my favorite, even though he was just a side character.
As for the plot of the novel, it was pretty good, although the focus on cancer took front stage to the idea of plot. Eventually, of course, they fall in love (no spoilers here, right? You've seen the cover of the movie, right?). I just don't know if I really appreciated their romance as much as I should have or at least could have. Maybe I'm sick of mushy YA, maybe I just can't connect with these cancer-riddled teens, but really I just think I don't have the same insane fan-eyes for John Green's books as some other people do.
As for a recommendation, if you like JG's books, go ahead and read this. If you like YA, romance, inevitable tragedies, a good cry, girls who can't appreciate V for Vendetta, or blind guys who play video games, this book could be for you. It just isn't for me.