Ghost Talkers is a 304-page alternate history novel by Mary Robinette Kowal. I received a copy from Netgalley a LONG time ago, but I'm reviewing it now since I've been reading a lot of Kowal's books and wanted to post reviews of them all. (She's an excellent writer.)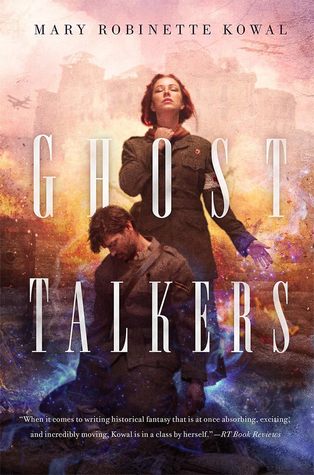 The premise of the story is that spiritual mediums belong to a WWI division called the Spirit Corps. The mediums communicate with soldiers who die and have been trained to report in shortly after they pass. Ginger, the main character, is an American engaged to a British intelligence officer. Between their two stories, lots of intrigue occurs throughout the book.
Although the Spirit Corps premise is what drew me in, the murder mystery plot is what kept me interested. Someone dies early on, and Ginger spends a large chunk of the novel trying to figure out whodunnit by talking to both spirits and those still in the living world.
I didn't love the WWI violence, but that's just a personal thing. Anyone who is a fan of that period will likely love this book. My favorite parts were the internal struggles of Ginger and her relationships with her friends and coworkers. Kowal excels at writing complex internal drama. The book also explores personal and shared pain, which was prevalent due to the war-heavy backdrop of the story. That pain was difficult to read since it was portrayed so convincingly.
I enjoyed the novel, but it wasn't my favorite Kowal book (see my upcoming review of The Calculating Stars). However, it was well-crafted, and the pacing was pretty good. After reading this, I went on to try other books by Kowal, since I loved her writing style but didn't love the setting of this novel. Her writing never disappoints!
TITLE: Ghost Talkers
———————————————
AUTHOR: Mary Robinette Kowal
———————————————
PAGES: 304
———————————————
ALSO WROTE: Shades of Milk and Honey, The Calculating Stars
———————————————
FIRST LINE: "The Germans were flanking us at Delville Wood when I died."
———————————————